NAME - DR. SANJAY GOVIND UPADHYE

EDUCATION - Ph.D., RESEARCH TOPIC

SWATANTRYAVEER SAVARKAR'S BIOGRAPHY IN THE
FORM OF AN EPIC 'VINAYAK VIJAY' CONSISTING OF 5400 LINES

B.COM, DIPLOMA IN COMPUTER SCIENCE,
DIPLOMA IN BUSINESS MANAGEMENT, M. A.

OTHER QUALIFICATION -
CERTIFICATE COURSE IN TEXTILE DESIGN.
(ONE OF THE SELECTED DESIGNERS ALLOWED TO DISPLAY
DESIGN IN WELL-KNOWN 'JAHANGIR ART GALLERY)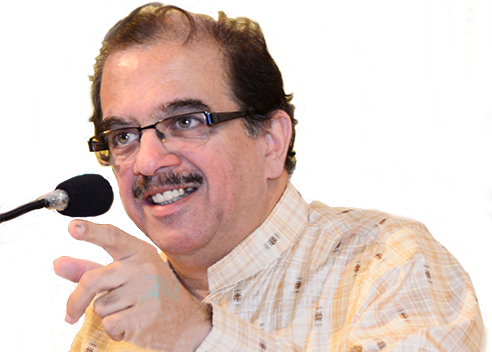 WRITER-
POETRY-'VASTAV' (FOURTH EDITION), 'INDEMAOOCHI GANI (poetry for kids FOURTH EDITION), 'GEET BHAGVAD GITA (MARATHI),
AINWELI ( MARATHI), GEETAGEETAMRUTAM (HINDI), '100' POLICE MARATHI TV SERIAL, FEW EPISODES -WRITER 'SAMRADNYI" MARATHI
FILM STORY AND LYRICS, COLUMN WRITER FOR MARATHI NEWS PAPERS.

ACTOR-
MARATHI TV SERIAL AND PROFESSIONAL AND AMATEUR MARATHI, HINDI AND KANNAD THEATRE

MAGICIAN-
NEARLY 3 YEARS MAGICIAN BY PROFESSION

PRAVACHANKAR-
3 YEARS DAILY LECTURES ON BHAGWAD GITA ON 'PRABHAT' AND 'E TV" CHANNEL

SPORTS -
TIME SHIELD CRICKET, MUMBAI LEAGUE BILLIARDS AND SNOOKERS

DIRECTOR-
AMATEUR THEATRE IN MARATHI, HINDI AND SCHOOL GATHERINGS-' RECORD WAS BOMBAY CAMBRIDGE SCHOOL ANDHERI MUMBAI-SUCCESSFULLY BROUGHT 1200 STUDENTS ON STAGE AT BHAIDAS AUDITORIUM IN 3 HRS SHOW TITLED 'INDIA THROUGH THE AGES'. DIRECT CULTURAL SHOWS FOR HANDICAPPED, WORKED AS A CHOREOGRAPHER IN INTER SCHOOL DANCE.

GAPPASHTAKAR -
TILL DATE PERFORMED MORE THAN 1500 SHOWS Of "GAPPASHTAK" ALL OVER THE WORLD (15 COUNTRIES)

AWARDS-
GADIMA PRATISHTHAN'S 'CHAITRABAN'

BEST ORATOR OF THE YEAR "P. B. BHAVE" PURASKAR, AWARD FOR THE POETRY FOR KIDS, "G. H. PATIL" PURASKAR –FOR INDEMAOOCHI GANI". After a long service of 16 years of working with CANARA BANK, I gave my career a fundamentally different direction. As a result, I pursued my interests in writing poetry, acting in amateur theatre in different regional languages, staging One Act shows, performing magic, anchoring TV shows, sports such Times Shield Cricket, Mumbai league BILLIARDS AND SNOOKER— ALL AT Once!

While rediscovering my versatile talents, a realization dawned on me that it was time to make an entry onto the corporate canvass. And as a result, I, very successfully carried out following assignments:
* Made corporate films for Nerolac Paints, Bajaj, L&T infotech.
* Worked with the employees of Parle Biscuits, Carona, Bombay Dyeing — mainly focusing on imparting education around work ethics by way of
a series of interactive learning sessions or cultural programs that I solely facilitated.

Under my theory of SPIRITUALITY IN CORPORATE MANAGEMENT, I have conducted Personality Enhancement sessions for the employees of Small Scale Industries in Mumbai region. I have conducted workshops on SPIRITUALITY IN EDUCATION as an Honorary Guide for the students of M.Ed. (Mumbai University) and NMIMS (Narsee Monjee Institute of Management Studies). I have worked as an Executive Cultural Adviser with PRAVARA RURAL EDUCATION SOCIETY and parted my soft skills with 40 schools and 24 colleges.

I was an Ex excutive director for Vishva Shanti Sangh for World operations, and activity under World Peace Centre, Alandi, A UNESCO chair and Ex advisor to MIT School of Government. In 2009, I was a KEYNOTE Speaker in the International Conference on Higher Education organized by UNESCO. The congress held at The Hague, Netherlands.

TILL DATE 21 LAKHS RUPEES DONATED FOR SOCIAL CAUSES.